TitleSmart is an organization of advocates, working together to create a world-class customized Title and Closing experience for our customers that reflects our values of positivity, caring, and responsiveness.
TitleSmart is a full-service title insurance agency dedicated to providing our clients with exceptional title, escrow, and real estate closing solutions. TitleSmart has a sharp focus on one goal – creating a "wow" customer experience. That focus and attention to all of the details that go into achieving it, have set TitleSmart on a fast track to growth. We believe there is always room to improve for the customer and we are obsessed with all the little things that make up a great customer experience. It's the little things that make the BIG difference.TM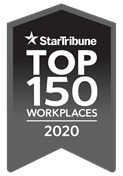 We're always looking for talented and driven people who are passionate about creating an outstanding customer experience. If that's you, please connect with us so we can learn more about you!
TitleSmart is a fast-growing, privately held, title insurance company with offices located throughout the Twin Cities. We are dedicated to creating outstanding closing experiences. TitleSmart was named one of the Minneapolis/St. Paul Business Journal's Best Places to Work in 2018 and 2019, and in 2020 TitleSmart was ranked #31 among 150 Top Workplaces in the Twin Cities by the Star Tribune.