Late summer is the perfect time for planning a road trip adventure! Once August rolls around, most of the busy holiday travel weekends have passed so the roads aren't as packed, and the weather finally starts to temper out from the stifling humidity of July to bring us pleasantly warm sunny days and cooler, campfire-ready nights. When it comes to packing for a road trip there are a few items that are absolute must-haves, like a stash of car-friendly snacks and a perfectly curated playlist that will keep your spirits high as you cruise down the highway.
Whether you're taking a little day trip to the lake or planning a cross-country adventure, we've put together a list of road trip essentials to help you get a headstart on packing. And of course, TitleSmart always keeps these trinkets in stock so if you find yourself out of a few items we've got you covered!
✅ Road Trip Checklist ?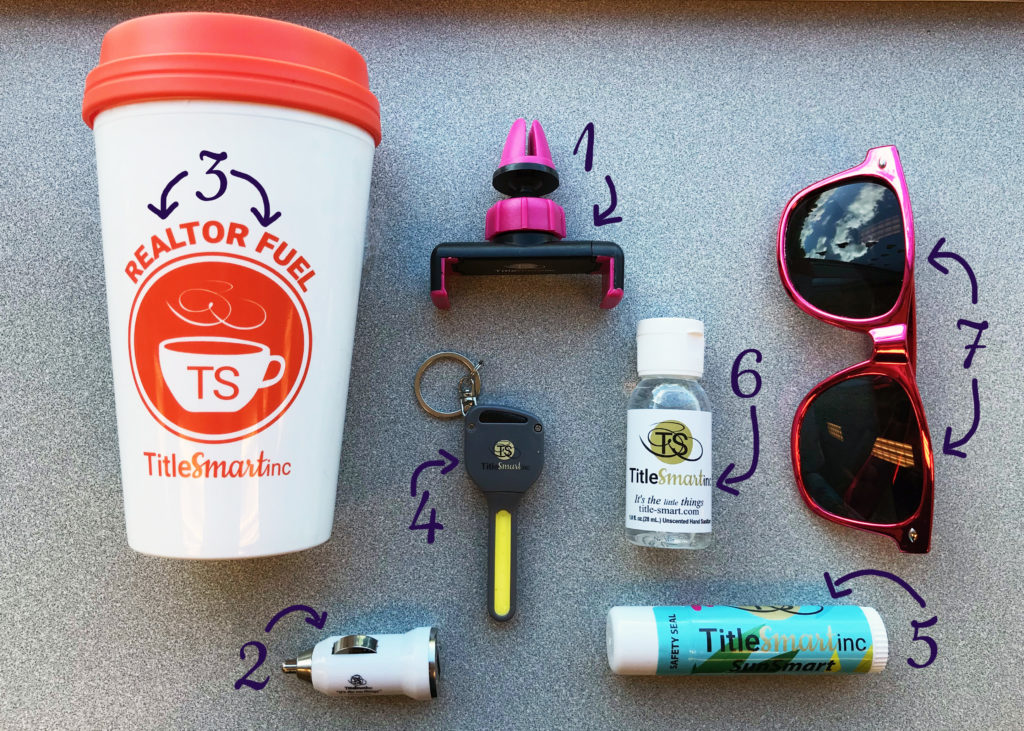 ✅ Item 1: Phone Mount
You know the law, hands-free driving is the way to go! However, your phone is an irreplaceably useful tool and it's almost inconceivable to make any sort of trip without it. From navigation help and making emergency calls, to providing you with hours of audio entertainment—your phone is probably number one on your packing list, so make sure you can use your phone safely by bringing a hands-free mount for the car.
✅ Item 2: Charging Port
If you forget to bring a charger on your trip, your phone will be about as useful as a rock in a few hours when the battery dies. How are you supposed to take photos for documentation of your #RoadTrip #Memories with a rock? Have no fear! TitleSmart keeps plenty of USB adapters for car charging ports in stock so you can snag one next time you're in the office to keep your phone charged and ready for action.
✅ Item 3: Reusable Travel Mug
What's a road trip without a little caffeine to get you through? Don't forget to fill up before hitting the road to keep you focused and energized on your journey.
✅ Item 4: Key Light
A mini flashlight will come in handy more than you'd think! Just attach it to your keychain and you'll have it nearby whenever you need it.
✅ Item 5: Sunscreen Stick
Taking care of your skin is super important—it is the largest organ in your body after all! If you're going to be spending hours in the sun wherever your destination takes you, you'll probably need to pick up a larger bottle, but our handy SunSmart sticks with SPF 30 will help provide UV protection in a pinch and are super easy to toss in your bag or glove compartment.
✅ Item 6: Hand Sanitizer
A mini hand sanitizer is great to have with you to help fend off germs, especially if access to public bathrooms are limited when you're out hiking in the wilderness or floating on the lake.
✅ Item 7: Sunglasses
Having to stare into the sun while driving for hours on end is an easy way to ruin a trip before it even starts. Save your eyes from the strain of squinting into the sun and look cool while you're at it by making sure you pack a pair of sunglasses!
And there you have it, our list of road trip essentials that will serve as a great starting point when it comes to packing for your adventure!
BONUS TRINKET TIP:
If you have a friend or neighbor watching your house while you're gone, a key rock is a great way to keep a spare key hidden in plain sight so they can get access to the house if needed. Check out the little video we have for it below! ?